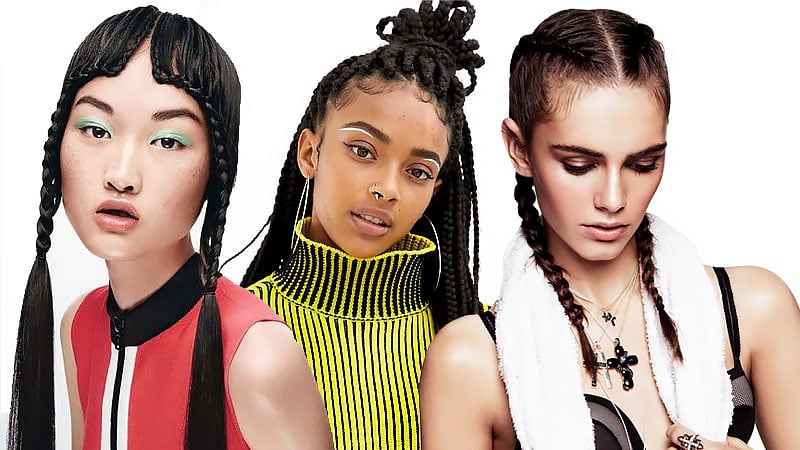 Women have worn braids for thousands of years all over the world. The style is one of the most versatile, running from incredibly intricate patterns to simple plaits. Braids are also perfect for almost every occasion. Whether you're in the office, at school, in the gym or even a wedding, there's a braided hairstyle that's ideal for you. Even better, depending on your hair type, braids can protect your strands from damage and help you grow your mane longer. Keep scrolling to discover all the different braided hairstyles for women.
1. Box Braids
Classic box braids are one of the most iconic styles for Afro-textured hair. All your hair will be sectioned into squares and worked into individual plaits to get this look. You can use your hair or have extensions braided in, which will give you head-turning long, full locks. They are considered a protective style and can be any length or thickness; however, if you have naturally thin or fine hair, opt for smaller box braids, so there's less tension on your scalp. While box braids take a long time to put in, once finished they last for weeks and are very low-maintenance.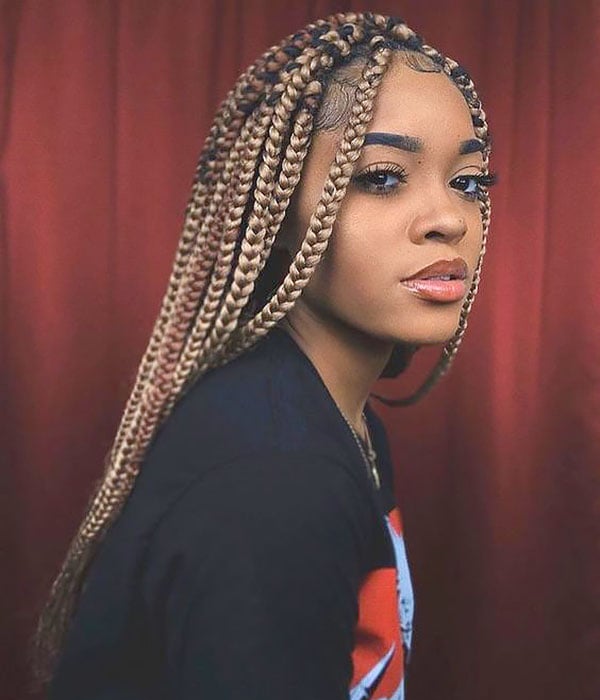 2. French Braid
A timeless and feminine style, the French braid is a classic for a reason. You can wear this versatile braid for a casual brunch, the gym or the office. Keep it super smooth for a more professional look, or pull a few face-framing pieces out for a soft and romantic vibe. You can also team it with a fishtail braid or half-up, half-down style, and French braids are also a popular hairstyle for wedding guests. Whatever the occasion, a French braid is a perfect choice.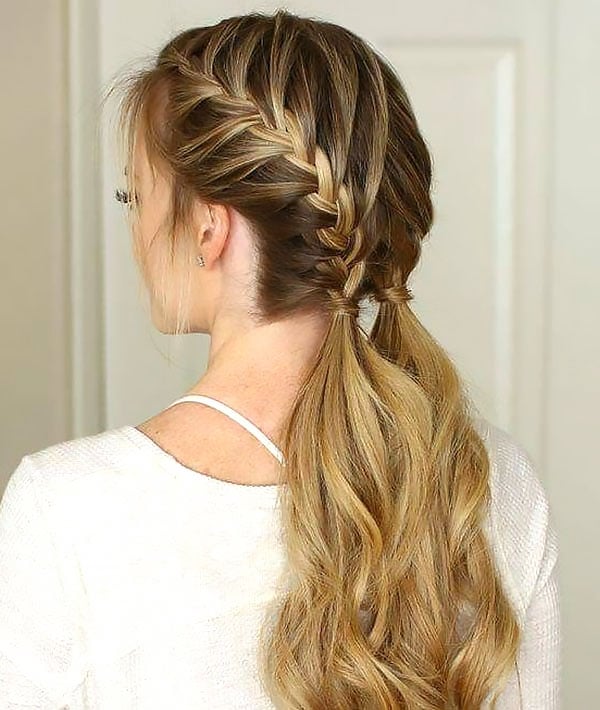 3. Braided Ponytail
If you're looking for a new way to style your braids, the simplest option is a high ponytail. The style is popular because it draws the eye up, making your face seem longer. It's also versatile, working equally well for the office, school, gym or a date night. To make your braided ponytail look perfectly polished, secure it with a clear snag-free elastic and wrap some of your braids around to cover it. Finally, add hair accessories for some extra personality.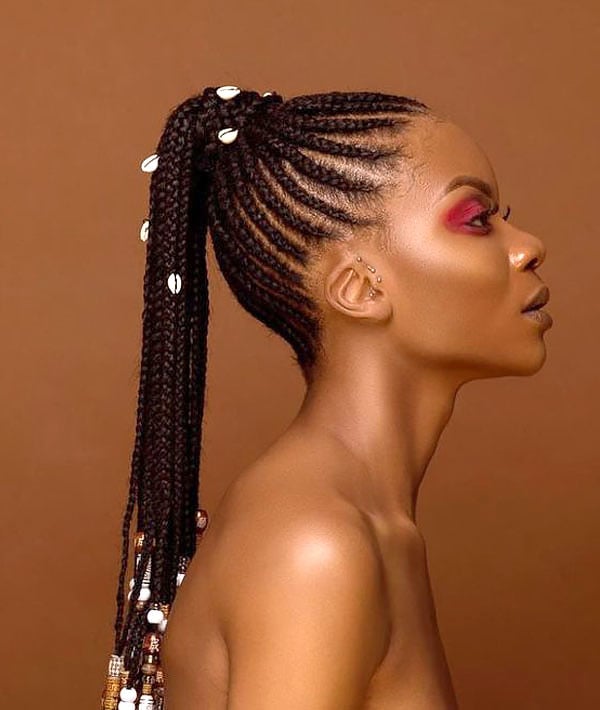 4. Dutch Braid
Dutch braids are an underhand braid style, meaning your hair will stand out from your head rather than lying flat. It's a classic three-strand technique, which means if you're familiar with creating a standard plait, the Dutch braid follows the same pattern. Because both plaits require you to add sections of hair gradually, the Dutch braid is sometimes called the 'reverse French braid'. It's a great way to take a standard plait hairstyle to the next level or create double braids and crown braids for a formal occasion.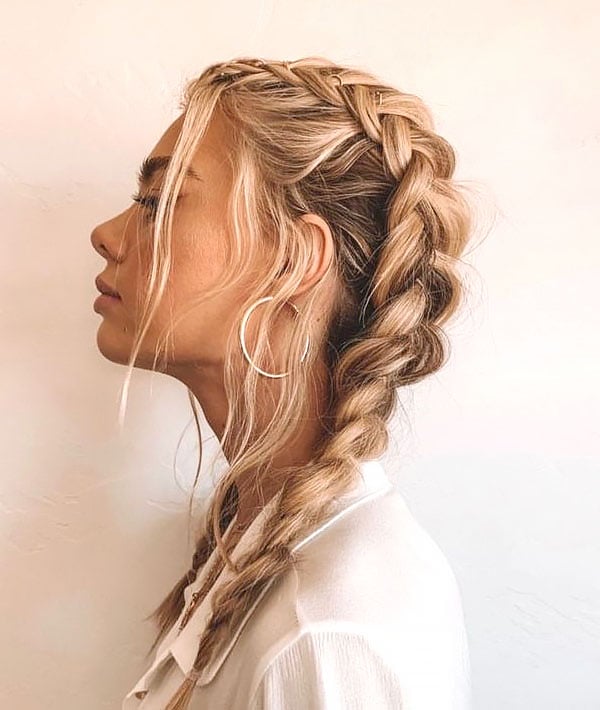 5. Crochet Braids
One of the simplest and easiest ways to get extra-long braids is with the crochet technique. Similar to a weave, crochet involves first braiding your hair into loose cornrows. This cornrow pattern forms the foundation for your crochet braids. Next, hair extensions are threaded through and secured using a crochet hook before being plaited into your braid style of choice. You can also have ready-made braids secured, such as box braids which dramatically cut the time it takes to put in your braids. That makes it a convenient option if you don't have an extra day to spend in the stylist's chair.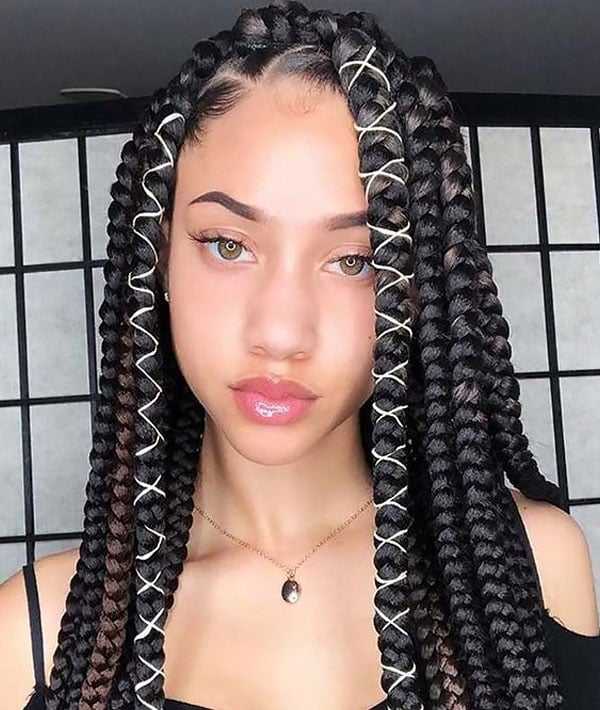 6. Lemonade Braids
Lemonade braids were made famous by Beyoncé, who wore them on the cover of her smash hit album Lemonade. The style involves creating neat, even and close cornrows that go from left to right, rather than straight back. Lemonade braids are a versatile look as they can be any size or thickness, and you can also combine them with other cornrow styles like zig-zag, or add accessories like rings and beads.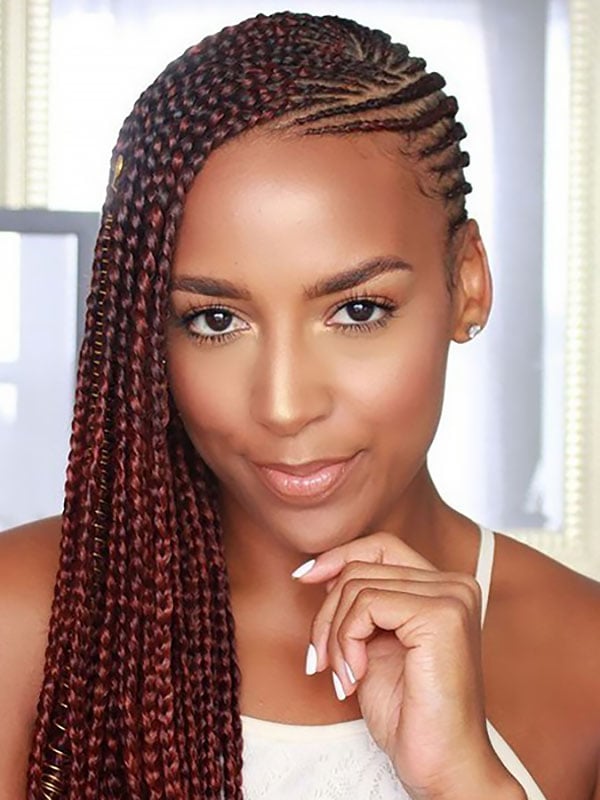 7. Fishtail Braid
A festival classic, the fishtail braid brings a touch of boho to any look. It's one of the simplest braids to create because it doesn't involve a complicated pattern. However, you will need to separate your hair into small sections – about half an inch – and keep the tension throughout the braid to avoid it falling apart. You can begin the fishtail at any point on your head, using a French or Dutch braiding technique, which means it will work on short hair as well as long. A double fishtail is also a great way to wear this look.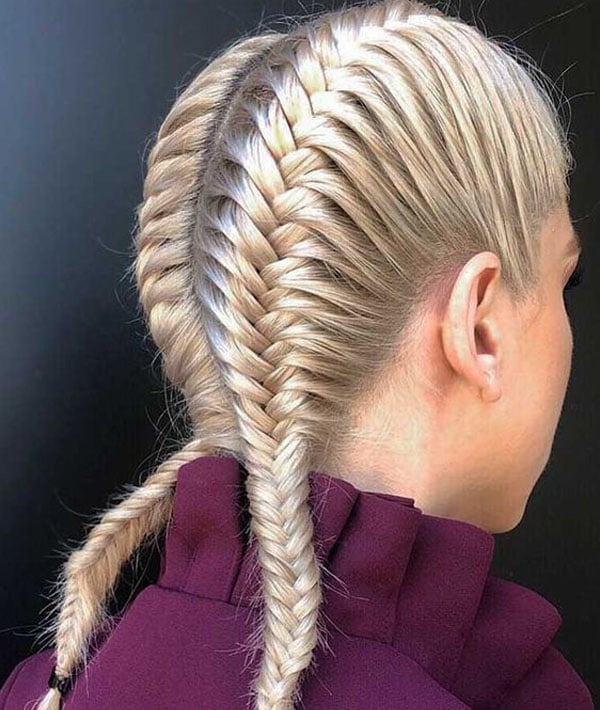 8. Feed-in Braids
Also known as 'knotless' braids, feed-in braids are even better for protecting your hair than most other styles. To create super long box braids or cornrows, the stylist will usually secure extensions to your natural hair with a knot. With this technique, the stylist will gradually 'feed' the extensions in – plaiting them together with your real locks for a seamless blend. The result? Braids that have less bulk and put less tension on your scalp. They will also flow like real hair, giving you all the extra length you want with a natural finish.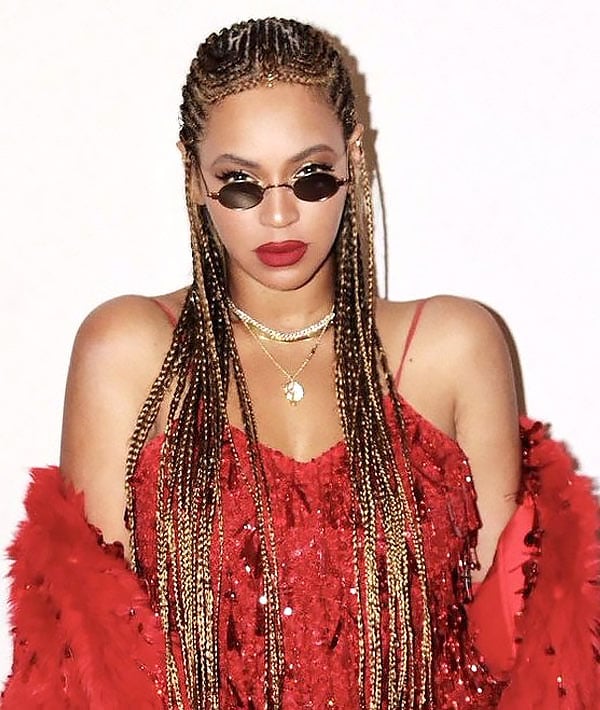 9. Goddess Braids
Goddess braids are a thicker version of cornrows, and equally versatile. The underhand braiding style is used to create this style, with the braids then formed into a ponytail, updo or left loose. Whatever you choose, your goddess braids will stand out from the crowd. Make sure your hair gets the attention it deserves by decorating the braids with accessories; beads, rings, and wires have been trending recently.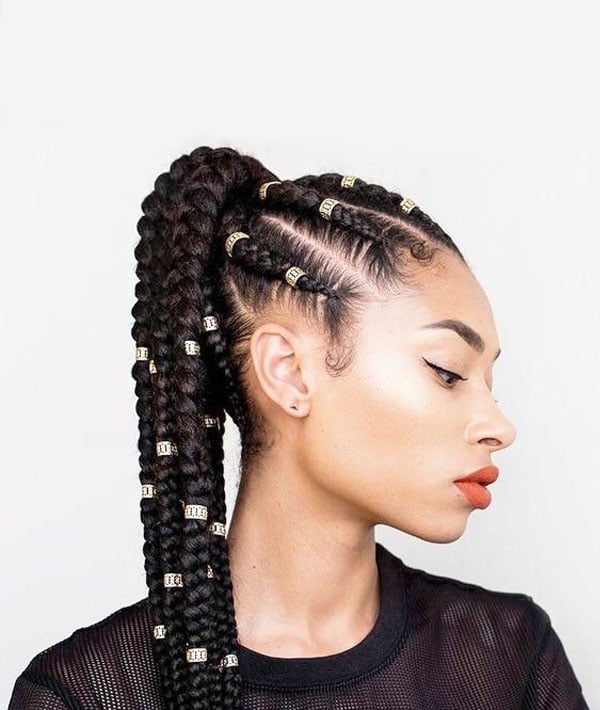 10. Braided Buns
Braided buns are a festival favorite with '90s vibes. There are so many options when it comes to this versatile style. For an on-trend take, try combining buns with double braids. Section your hair down your center parting, then start creating two Dutch braids at the nape of your neck. Work your way up to the crown of your head, then secure the hair, so it's in double ponytails. Then create double Dutch braids starting at the front of your head and braid back to meet the other braid. Secure the remaining hair into a mini ponytail, then twist all the loose hair into two buns. You'll end up with a hairstyle that stands out from the crowd.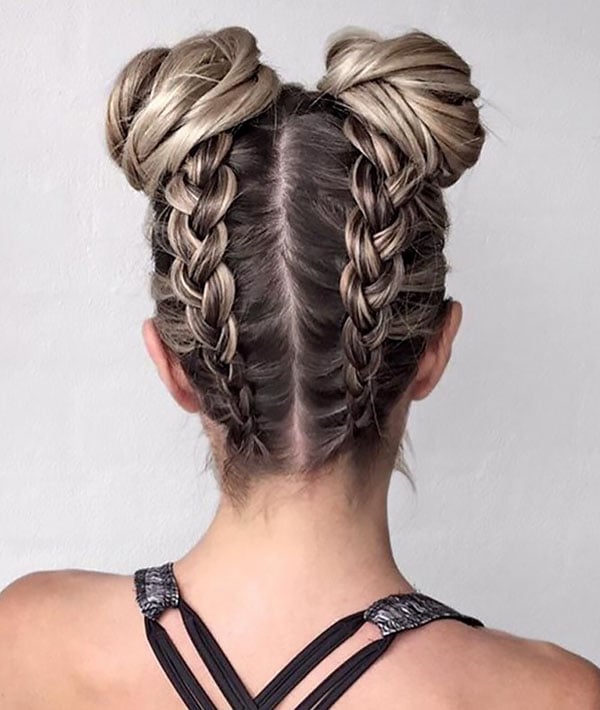 11. Tribal Braids
Tribal braids are all about combining different techniques and braid sizes to create unique patterns and styles. These braids have their roots in the tribes of Africa. Traditionally, braids were used as a way to express an individual's heritage and status. Today, they can also be about showing off your style. There are no limits on tribal braids – they can be as intricate as you want, so get creative!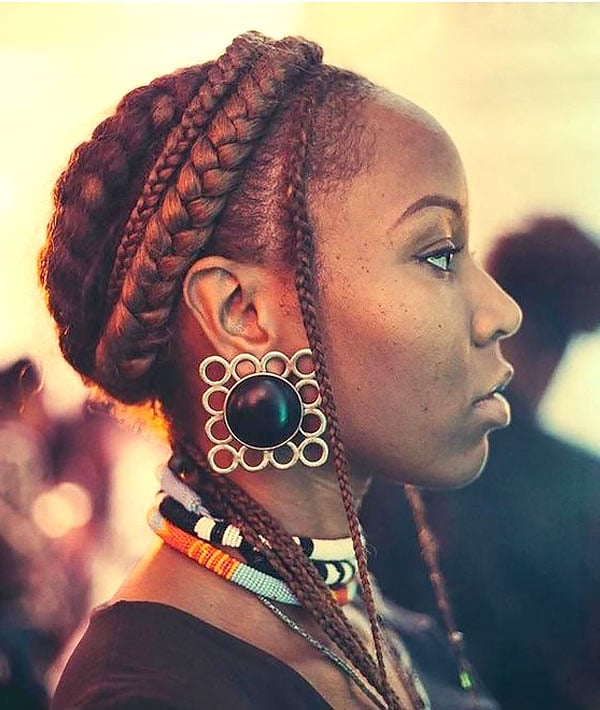 12. Cornrow Braids
Cornrows are one of the most on-trend hairstyles right now. Hair is braided close to the scalp using the underhand technique to create raised plaits. Each one is formed in neat rows – which is where the style gets its name. Cornrows are endlessly adaptable; they can be thin or thick, combined with other braid styles like box braids or used to create a faux undercut or fauxhawk. Even better, cornrows are a protective style and will last several weeks without too much maintenance.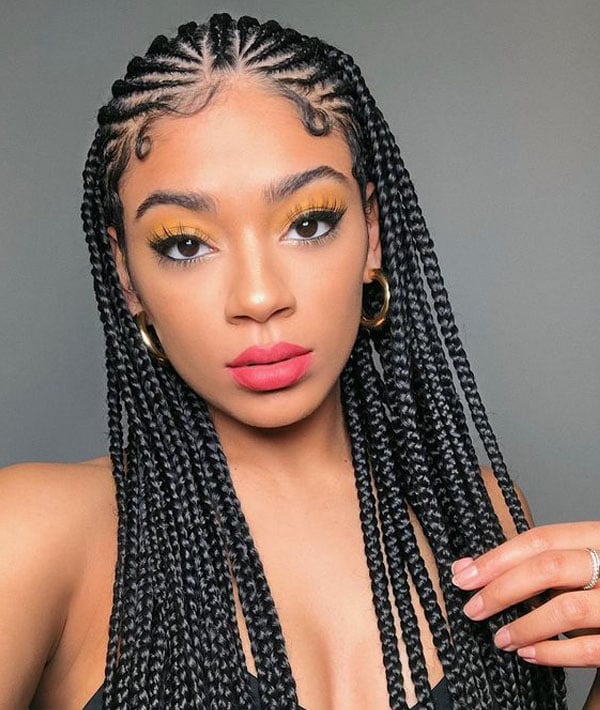 13. Fulani Braids
Fulani braids are the signature braids of the Fula people in West Africa. The style involves braiding thin to medium plaits in rows along the sides of the head while leaving a central twist at the crown. The central braid is then decorated with accessories – beads and rings are traditional, but hair cuffs are a chic option. Place the braids and accessories strategically to make the most of your face shape. Fulani braids can also be combined with other styles to make a statement; try pairing Fulani braids at the front with wearing the rest of your hair in a crown braid to create a unique updo.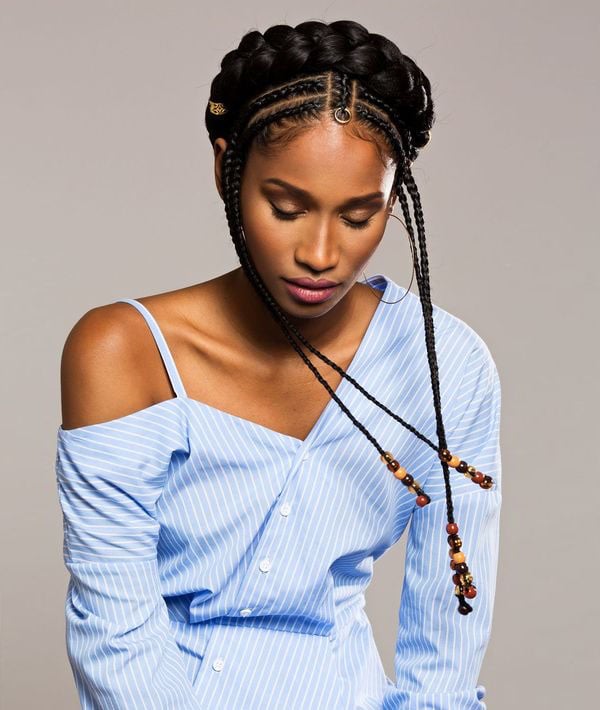 14. Waterfall Braids
One of the most beautiful and feminine braid styles is waterfall braids. It's a modified form of the French braid. The difference is that instead of pulling in sections to work all of your hair into the plait, you will only braid across the top part of your hair, leaving the rest free. The braid creates a 'cascading' effect, which means it looks perfect paired with a soft wave hairstyle. The gentle, romantic vibe makes waterfall braids a popular bridal and bridesmaid choice. Add a dutch braid, and some flowers or delicate hair slides for a pretty effect.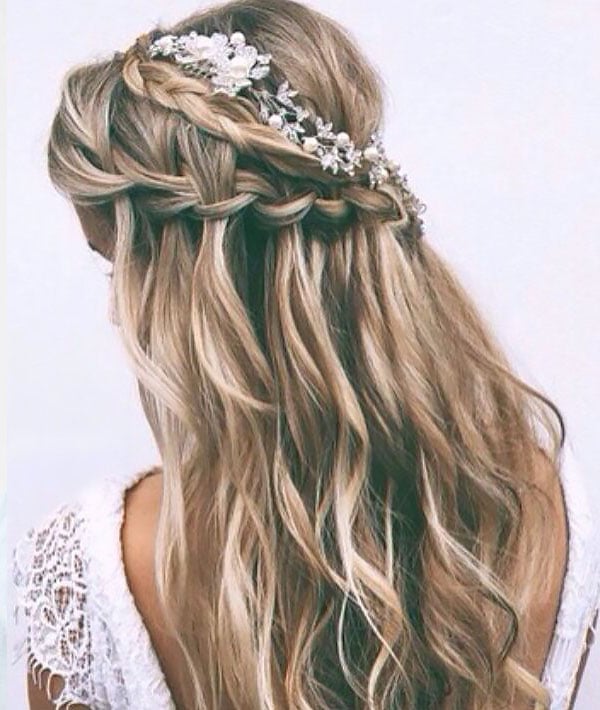 15. Yarn Braids
Yarn braids are a type of extensions made from acrylic – the non-wool fabric. They are a great protective style for Afro-textured hair, especially during colder months like autumn and winter. Yarn braids also make a bold statement because the material comes in a rainbow of colors; pastel pink, peach and color-pop shades like deep green and red are on-trend. An extremely versatile styling option, yarn braids work with all hair lengths. They can be as thin or as thick as you want, so opt for anything from mini to jumbo depending on your hair's strength. You'll also have to consider how much patience you have when braiding – the bigger the braid, the longer it takes!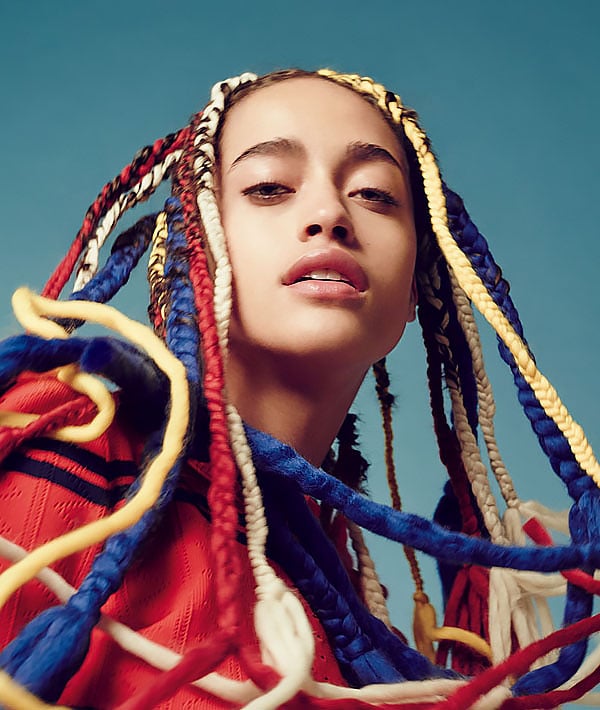 16. Crown Braid
The crown braid has become more and more popular as a hairstyle for special occasions, like proms and weddings. That's because crown braids bring out your inner princess! The style needs hair with a bit of grit and texture, so it's also perfect if you haven't washed yours and need to disguise a bad hair day. The simplest way to make a crown braid is to plait your hair into a double Dutch or French braid, then lift each one and pin it to the opposite side to form the crown. You'll be looking and feeling like royalty in minutes.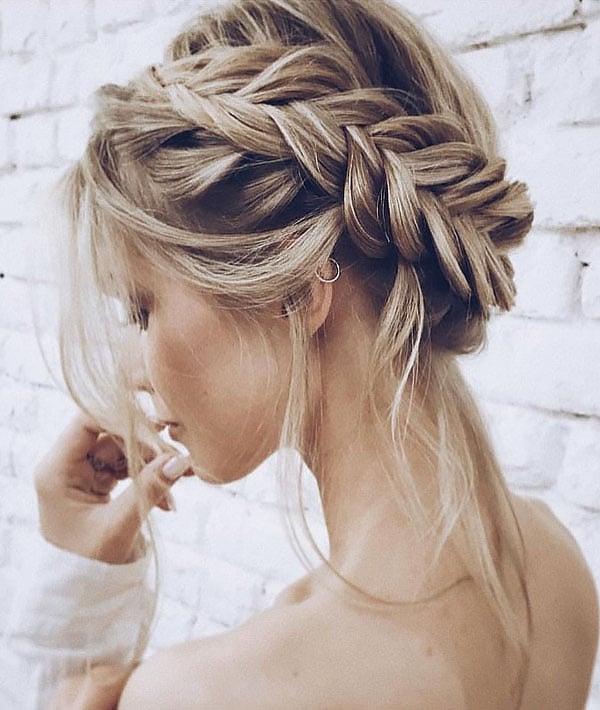 17. Butterfly Braid
The butterfly braid is a unique and eye-catching style that will have all eyes on you. It's an oversized and slightly fluffy underhand braid, which should look natural and not too 'done'. Because it's so thick, the butterfly braid almost always requires hair extensions, and you may need to sew the braid in place too. Once you've finished braiding, stretch and pull sections of the braid to make it even thicker and fluffier. You can also add hair cuffs or jewelry. Keep the rest of your hair smooth or in smaller cornrows and stitch braids. Doing so keeps the butterfly braid the focus of the look.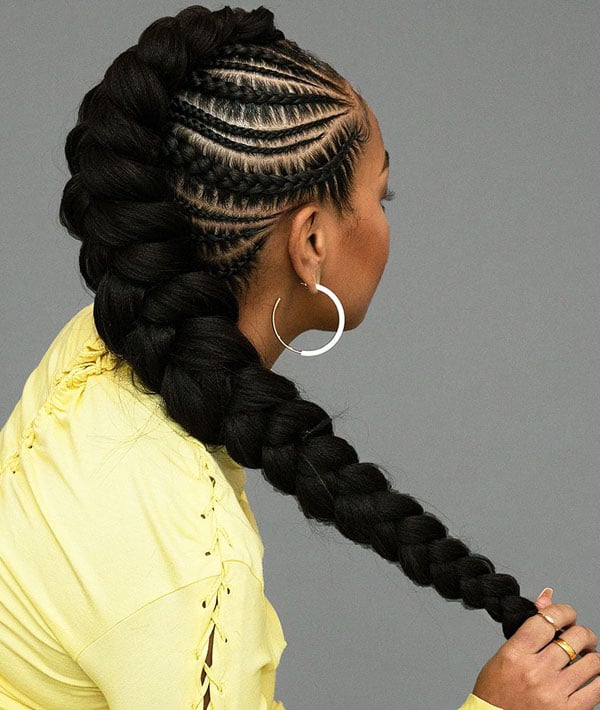 18. Mohawk Braid
If you're looking for a hairstyle that commands attention, the mohawk braid is for you. When you're short on time, plait a thick Dutch braid along the center section of your head, then tie the rest of your hair back in a ponytail. It will create a mohawk effect without too much effort. However, if you want to take your mohawk braid to the next level, there's a more striking mohawk braid technique. Start by cornrowing the sides sections of your hair. Then begin a Dutch braid of the center section at the nape of your neck, moving towards your forehead. Once you run out of hair, fold the braid back on itself to create a rounded mohawk. This style has lots of punk attitude and works best if you have thick, straight hair.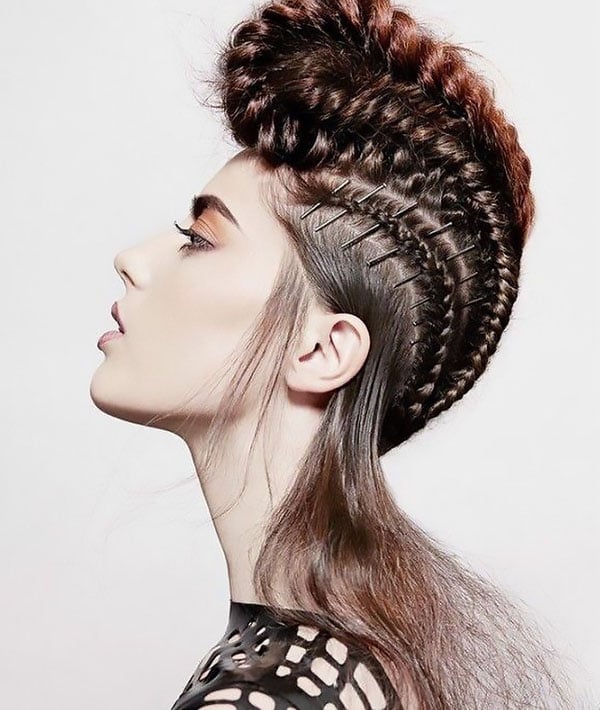 19. Jumbo Box Braids
If you're looking for a braid style that makes a statement, jumbo box braids are it. These thick plaits will have all eyes on you. Not only do they take less time to put in and take out than other box braids, but they are also the perfect canvas for showing off bright new hair color or accessories like rings, beads, and jewels. Jumbo box braids are a great choice if you have naturally thick hair or you can put in extensions to create thicker braids.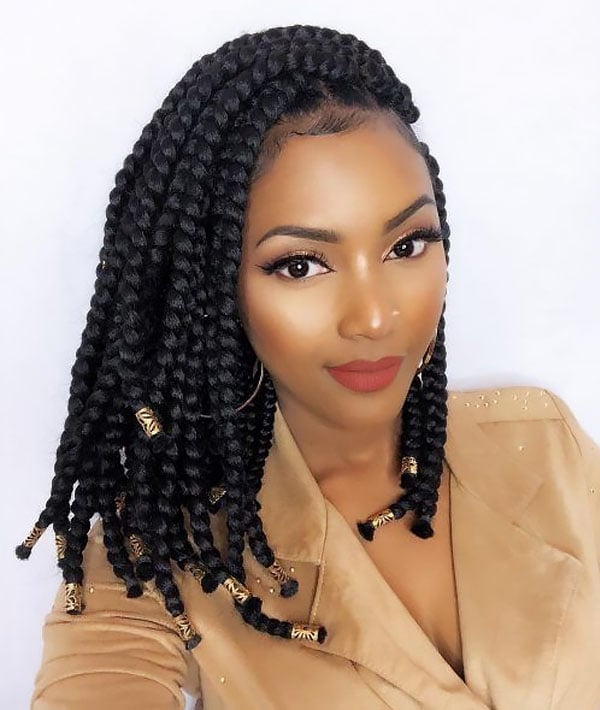 20. Snake Braid
If you know how to create a standard three-strand plait, you can quickly turn it into a snake braid. This super easy style is usually used to give a half-up, half-down look a fresh twist. To create a snake braid, start plaiting a small section of hair at your temple. Braid it back until you run out of hair, then hold one of the three strands and push the other two back up. Next, gently pull the braid out again slightly, so the snake pattern is visible. Repeat the process on the other side, then tie the two snake braids together in a ponytail at the back of your head, using a section of hair to cover the join. It is one of the most straightforward braided hairstyles, and it still looks fantastic.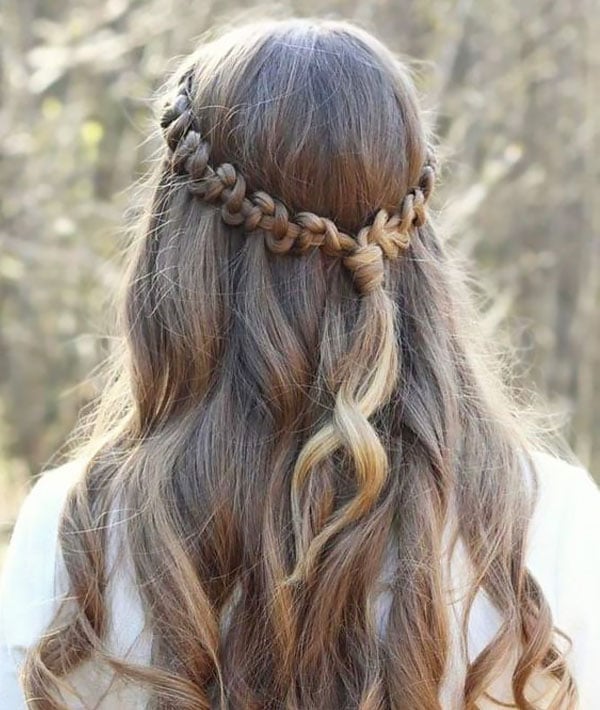 21. Triangle Box Braids
Triangle box braids get their name from the shape of the hair sections. Instead of the classic square – or box – each one forms a triangle. It's a unique twist on the usual box braid style and is a fun way to shake it up if you want a fresh look. Thicker braids are best as they will hang down lower, showing off the triangles. Like other box braids, triangle box braids will last for up to eight weeks.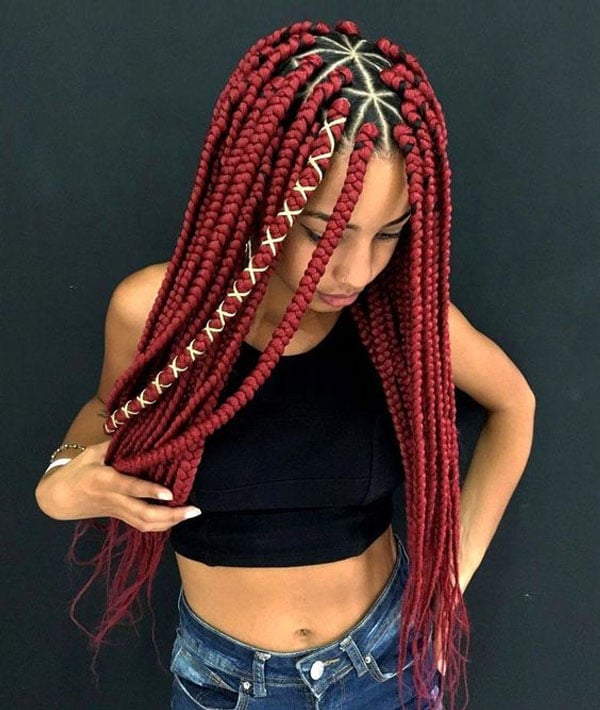 22. Side Braids
Side braids are the easy way to create a faux undercut or take a side-swept wavy hairstyle to the next level. These braids start at the hairline and move up towards the crown of the head instead of straight back. As a result, they have an unusual and striking appearance. Adding extensions to the braids and leaving the rest of the hair free gives the side braids style an on-trend asymmetric angle. It's a bold contrast, and the result is a modern, chic look that's flattering to most face shapes.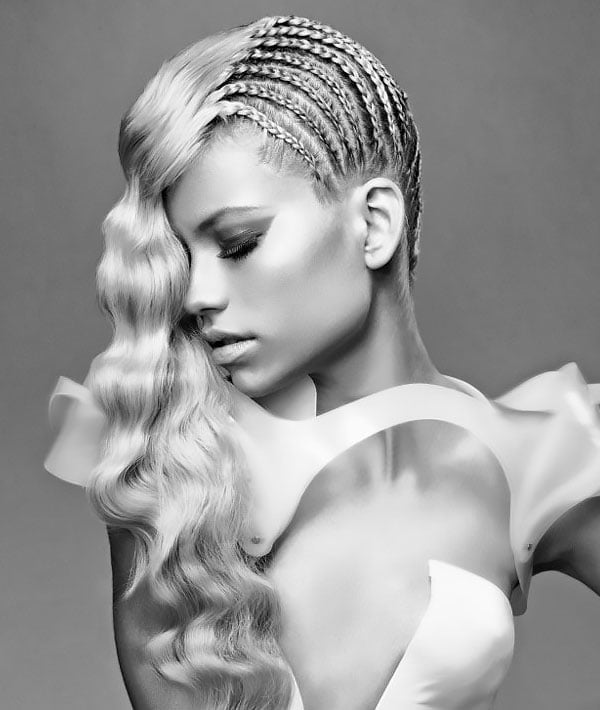 23. Senegalese Twist Braids
Senegalese twists are also called rope twists because of the thick, rope-like braids that form using this technique. The twists are a protective style because the process involves wrapping hair extensions around your natural hair before the twisting begins. As a result, your hair won't be exposed to environmental pollution, and there's no need for heat styling or chemical treatments. Plus, the twists can last up to four months! It's recommended to use synthetic hair rather than human hair extensions to get the signature ultra-smooth and silky finish of Senegalese twists. You'll need to thoroughly dry your hair with a hairdryer – on a cool setting – every time you wash it.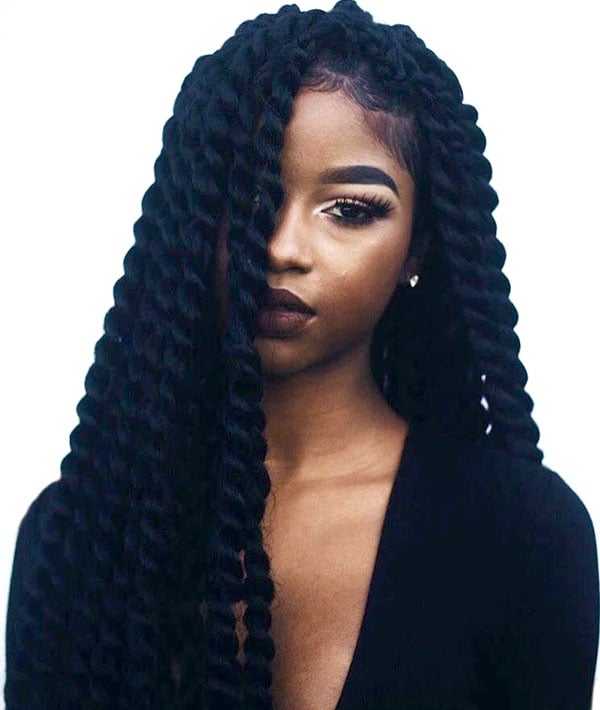 24. Halo Braid
A more advanced version of the crown braid, the halo braid sits much higher on your head. To create the style, sweep all your hair to one side and begin Dutch braiding it from left to right, starting at your temple but about an inch back. Starting there will make the halo look more raised and less like the crown braid. The braid will begin to coil around your head as you add more and more sections. Once you've run out of hair to braid, twist the final pieces of hair and tuck them away. A halo braid is a beautiful hairstyle for a formal event – particularly in summer – and is a great way to show off statement earrings too.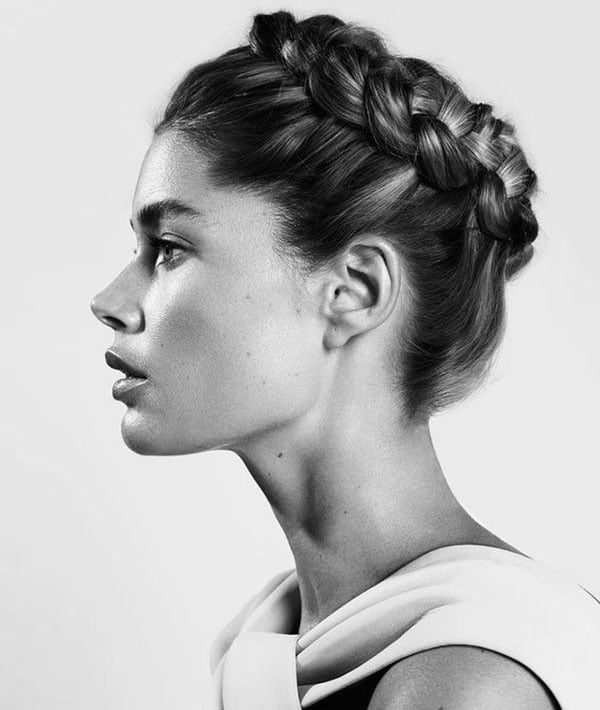 25. Ghana Braids
Ghana braids are a versatile and intricate hairstyle. While the term 'Ghana braids' can apply to a wide variety of different braiding patterns, each one starts with micro braids which slowly taper back, getting wider and fuller as more hair is added. The classic way to wear them is to braid front to back, but you can also start at the crown of your head or go side to side.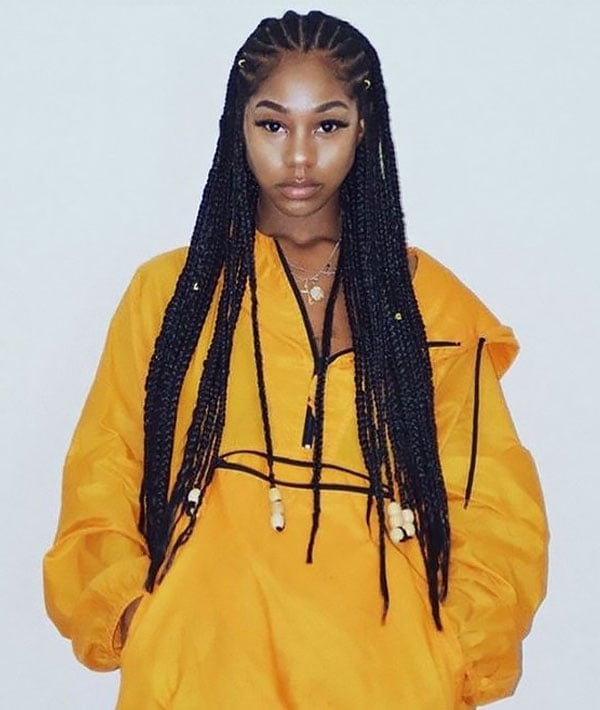 26. Micro Braids
As the name suggests, micro braids are tiny and delicate. But while it may seem like they are the most gentle braiding style because they don't weigh down the scalp, they can cause more breakage than bigger plaits. The reason is that they have to be braided very tightly and close to the head. They aren't suitable for those with dry or brittle hair and can cause hair loss if left in too long. However, when properly maintained, these braids create a cute and cool effect with a lot of attitude.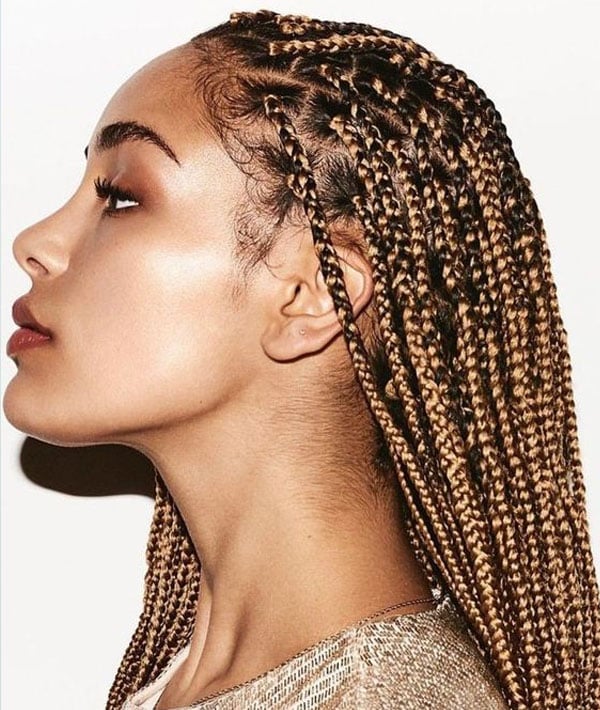 27. Ombre Braid
Braids and ombré hair are a perfect match because the natural weaving pattern makes the transition between colors look soft and seamless. Whether your color transition is the classic blonde-brunette or something more out there, like green-blue, braids will complement it perfectly. One excellent option is the six-strand braid. While more complicated than a standard three-strand plait, it's sure to get you plenty of compliments.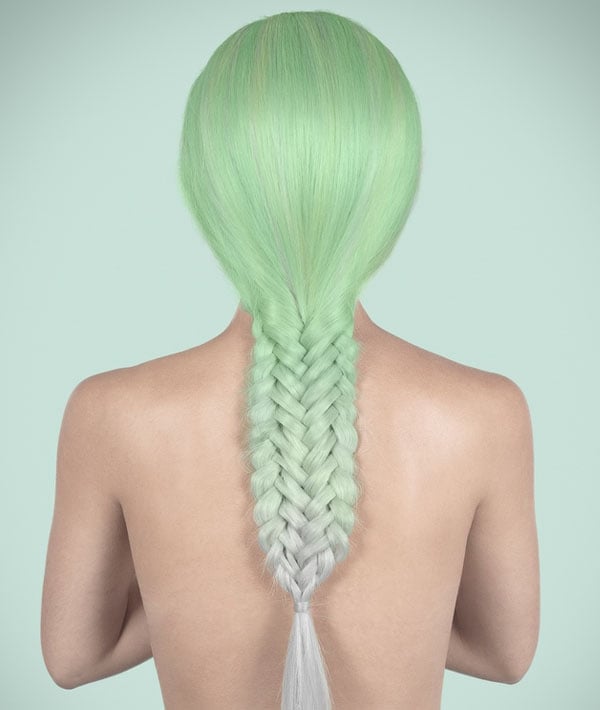 28. Tree Braids
Tree braids are one of the '90s  and early 2000s hair trends that are making a comeback. The style involves creating mini cornrows braided back from your hairline about an inch or two. The rest of your hair is left free, either loose or in a ponytail or updo. If you don't have time or prefer not to braid all of your hair, tree braids are an easy way to try the braided style without going all the way. At the same time, tree braids show off your natural kinks and curls.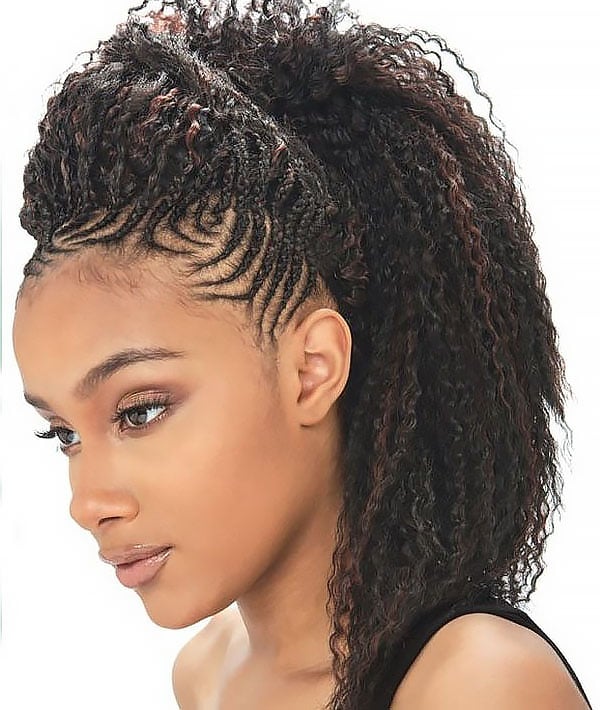 29. Half-Up Half-Down Braids
If you love your long hair and also want braids, the half-up, half-down style gives you the best of both worlds. A fresh take on it is to double French braid the center section of your hair halfway, then twist it up into a messy bun. It adds an extra cool factor to the standard bun hairstyle while maintaining its beachy vibe. You could also braid more sections of your hair into the up section. To nail the look, make sure you leave enough hair loose, so the style doesn't look half-finished.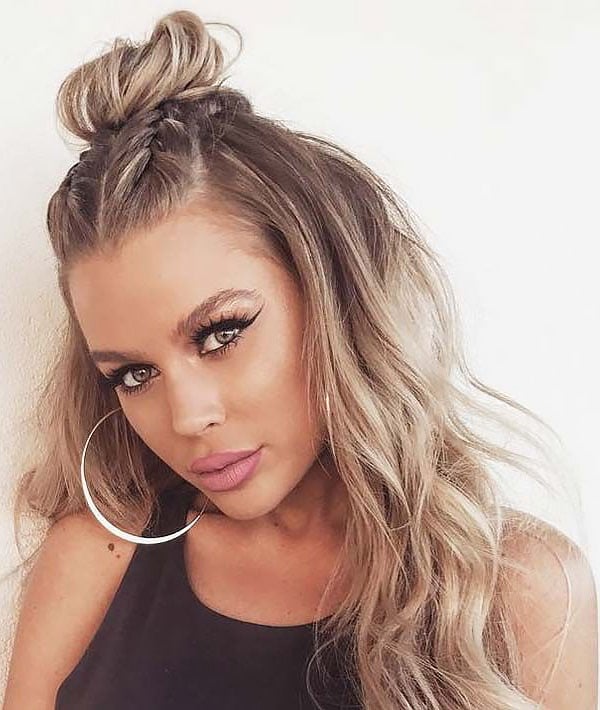 30. Braided Updo
A braided updo is a clean, polished look that has a vintage appeal. If you're a skilled braider, try a serpentine French braid that moves from one side of your head to the other. For beginners, an easy option is to create a double Dutch or French braid and twist the two plaits together to create a braided bun effect. Alternatively, you could also turn and pin the braids for a different finish.