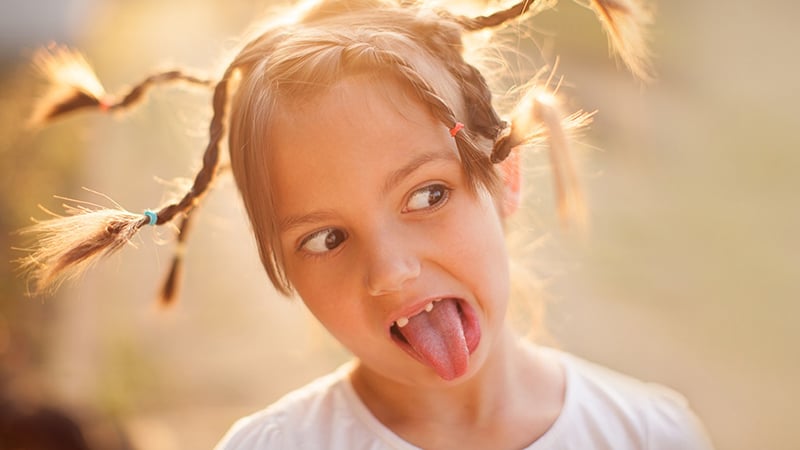 Crazy hair day is all about having fun, being creative, and going wild with eye-catching and out-of-this-world hairstyles. There's a massive variety of options, from dramatic and abstract – like Dr Seuss braids or glittery buns – to hairstyles inspired by animals and even food! Check out our selection of awesome crazy hair day ideas that your daughter will love.
1. Easy Crazy Hair Day Idea
If you're short on time or aren't confident with more elaborate hairstyling techniques, don't worry. There are plenty of easy crazy hair day options that your daughter will love. One idea is a pumpkin look, which only takes a few minutes. All you need is a bun maker – also known as a hair donut or bun donut – which will quickly fold her hair into a rounded shape. Then, use temporary spray-on hair color to make it orange and add leaves from your yard, or faux leaves from a craft store, to make it look like a real pumpkin.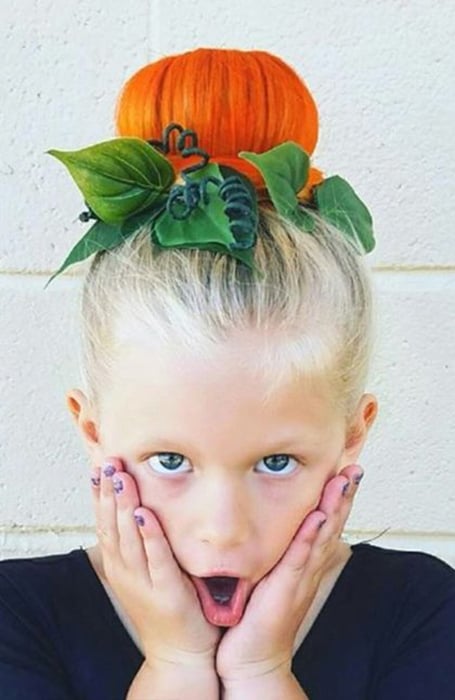 2. Crazy Hair Day For Short Hair
Not every crazy hair day style requires long hair. If your little girl has a short cut like a bob or lob, try a crazy look that only needs hair on top of her head to be styled. One idea is a lattice pattern, which you can create using hair ties and sectioning off the hair as you would for box braids. The lattice can be accessorized with pipe cleaners, ribbons, or flowers. A cool option is to add a toy spider, which will look like it's sitting on a web.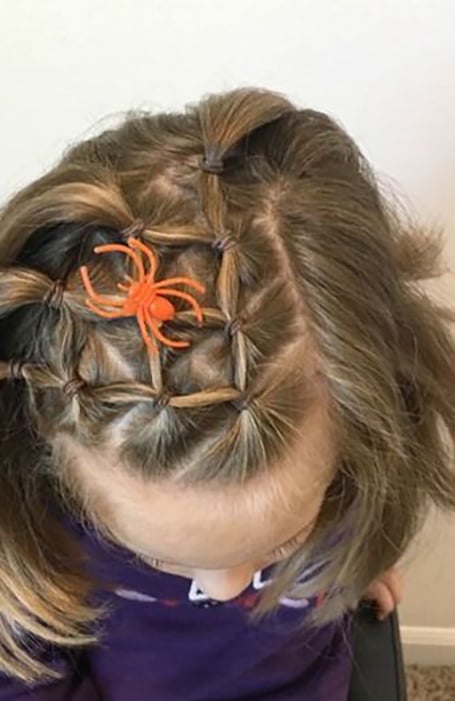 3. Crazy Hair Day For Medium Hair
Medium hair is not usually long enough to create elaborate braids – but that doesn't mean you can't create a cool look for crazy hair day. Try putting your daughter's hair up in twisted bunches, then add fun and colorful accessories. Curly pipe cleaners are particularly useful because they add to the twisty, topsy-turvy effect.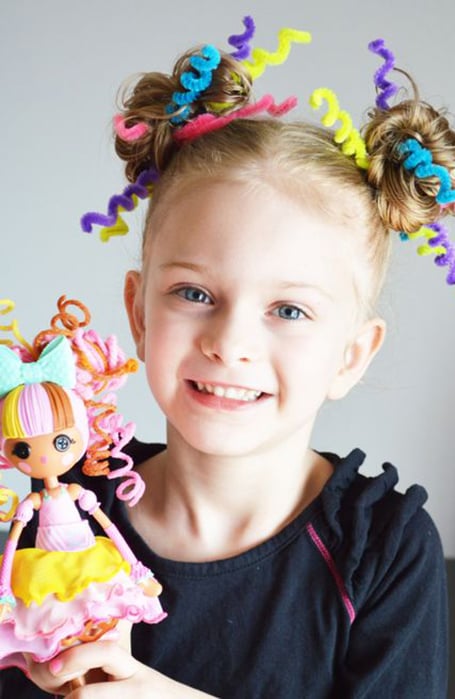 4. Unicorn
A unicorn hairstyle is a magical option for crazy hair day. It's also surprisingly simple.  To create the horn, scrunch and fold kitchen foil into the pointy shape and secure it to your daughter's head with bobby pins. Alternatively, you could use a cardboard cone to help create the horn shape. Whatever base you choose, all you need to do next is wind her hair around it. Pull the rest into a high ponytail and add colorful spray-on hair color, colored clip-in hair extensions, or a big bow for a fun extra touch.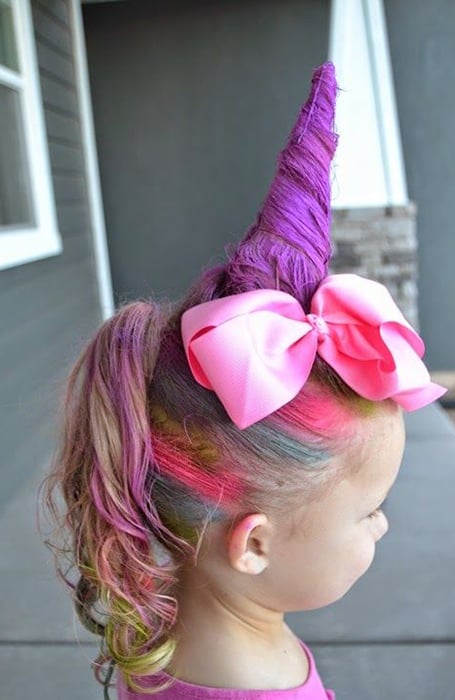 5. Cupcake Hair
For a cute, crazy hair day look, there's nothing sweeter than cupcake buns. It's the perfect option if your daughter loves dessert and wants a playful and girlie hairstyle that suits her personality. Even better, it's a hairstyle that couldn't be simpler to create. After sectioning her hair into two ponytails, cut a hole in the center of two paper cupcake liners and pull her hair through. Then twist the ponytails into buns and secure with a bobby pin. Next, spray on some hair color to create a 'frosting' effect. Finally, add a pom-pom on top of each 'cupcake' to look like a cherry.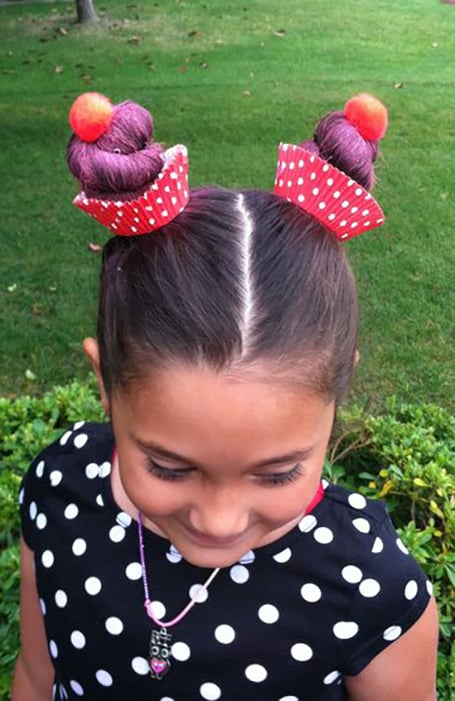 6. Mermaid
Turn a simple French braid into something worthy of crazy hair day with a mermaid hairstyle. The braid itself is the mermaid's tail, so make sure you spray it green or blue – while leaving the rest of your daughter's hair its natural color. Create a fishtail effect by dividing the end of the braid into two 'fins' and using hairspray to help them stay in shape. Then, slide one of her dolls, like a Barbie, into the top of the braid, hiding the legs under the plaited section. The final hairstyle looks fantastic, and your daughter will love showing it off to her school friends.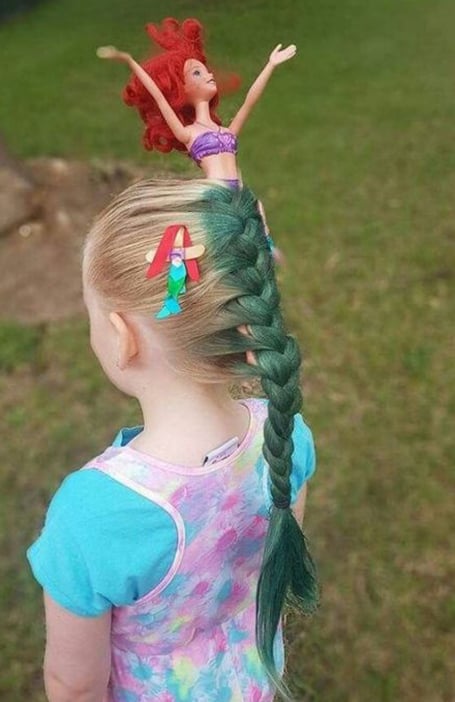 7. Donut
Food – and particularly dessert – makes for great crazy hair day inspiration. Best of all, they are usually easy and quick to create. The donut on a plate hairstyle does require a bit more preparation than cupcake buns, but it looks good enough to eat! To make the donut look even more convincing, cut a hole in a paper plate, and slide it to the base of your daughter's ponytail. Then, use a bun maker to create a smooth, round donut-shaped updo. For the perfect glazed finishing touch, paint on real edible frosting and sprinkles.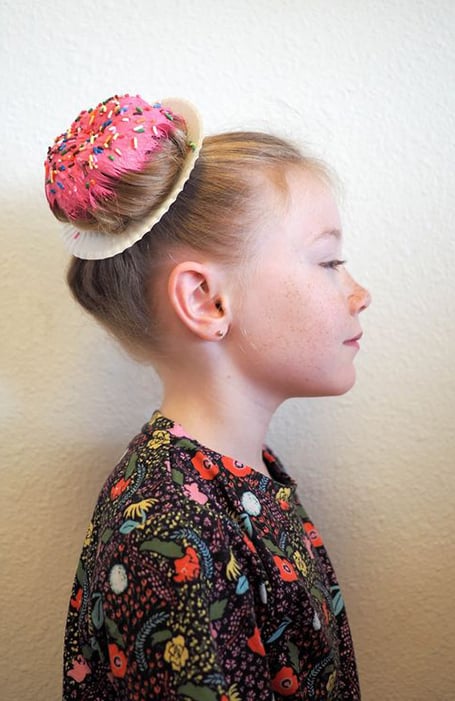 8. Halloween Hair
There's no shortage of cute and spooky ideas for a Halloween crazy hair day, from a pumpkin bun to braided cat ears. If your daughter has long hair, you can get creative with the design. For a creepy-crawly look, try twisting her locks into rope braids that criss-cross her head in a web pattern. Then add fake spiders and other insects.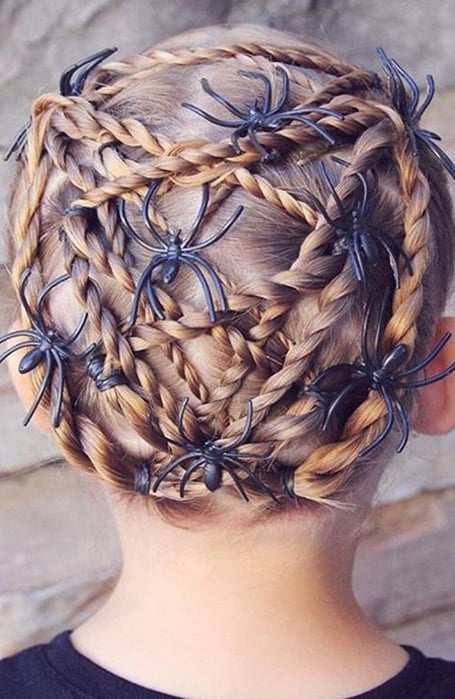 9. Christmas Hair
A Christmas style makes crazy hair day festive and fun. It's also a great way to get more use out of your old tree decorations like tinsel and baubles. Plus, it's a great option if your daughter has long, straight, and smooth hair. Make the Christmas tree shape using an empty water bottle as a base. You could spray it green at that point for an extra authentic touch. Then, wind the decorations around the hair just as you would a real tree.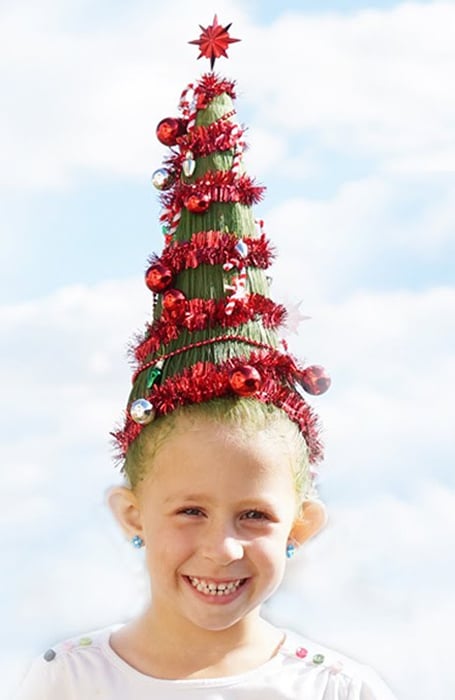 10. Fruit Loops
What kid doesn't love cereal? Get inspired by breakfast for crazy hair day and repurpose an empty box of Fruit Loops. You don't need to use real Fruit Loops for the style as multicolor hair ties mimic the cereal's colorful 'o' shapes. Your child's hair will need to be long enough for two braids – one to secure the bowl and the other to secure the cereal box and create a path for the 'Fruit Loops' to sit on. The final effect looks like cereal is pouring from the box into the bowl.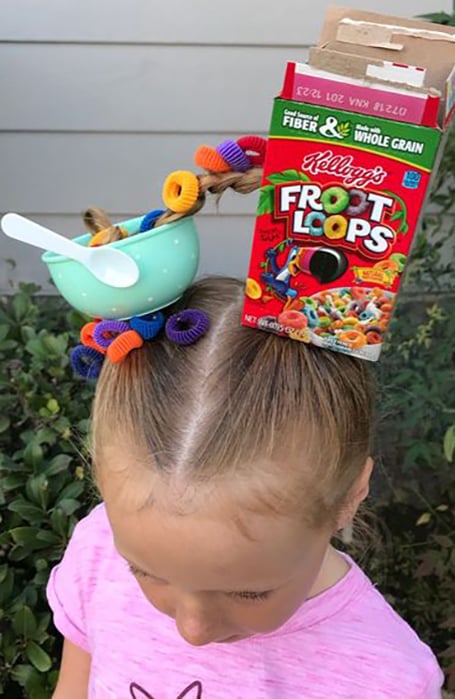 11. Drink Bottle
A crazy hair day classic is the drink bottle hairstyle – also known as a soda bottle style. That's because it looks great while still being simple and inexpensive to create. All you need is an empty, clean soda bottle with a slit cut into one side. Pull your daughter's hair into a high ponytail, then feed the hair into the container, working it down until the bottle is resting on her head. Then pull some of the hair through the neck of the bottle. If you want to add more details, clip a plastic cup to the side of her head so the hair can 'pour' into it.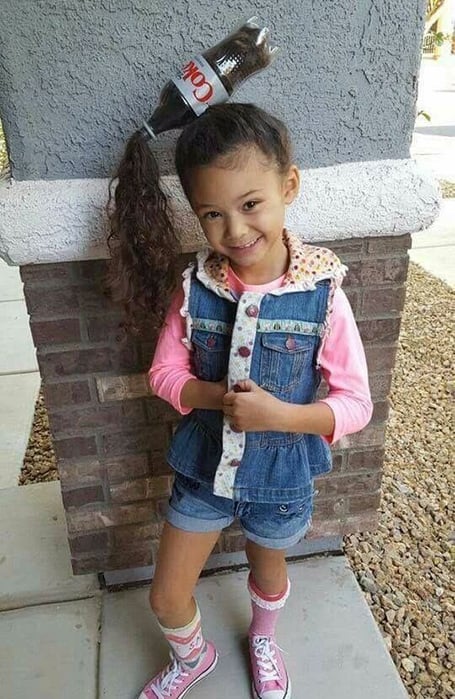 12. Doll House
If you and your daughter want to go all out for crazy hair day, try creating a dollhouse hairstyle! It's a great look if your daughter has fine hair as you can build the dollhouse with other materials. To ensure the hairstyle isn't too heavy or unbalanced, use mini dolls or paper cut-outs for the characters. One popular version of the dollhouse hairstyle is Rapunzel's castle. Use cardboard to construct the castle, including old toilet paper rolls, which you can stack to give it more height. Feed your daughter's braid through the structure and out of a window, so it looks like Rapunzel's hair being lowered down.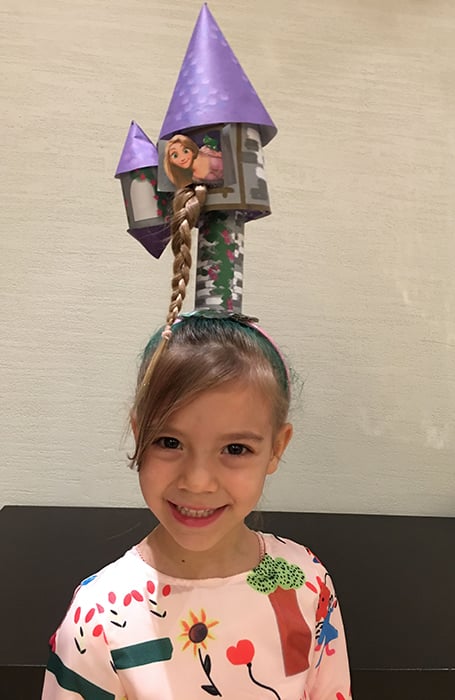 13. Artistic
Crazy hair day is a time to get creative and be original, so put your artistic skills to work to create an unusual design your daughter will love showing off. A Marie Antoinette-style teased beehive is an excellent base for artistic hair look. It can be accessorized with flowers, feathers, ribbons, and more. Alternatively, you could drape beads or attach bells to it.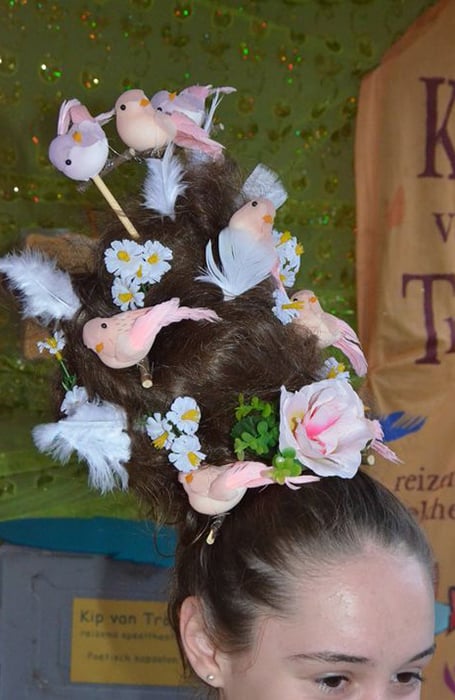 14. Watermelon
A funky food-inspired look, watermelon hair is ideal if your little girl has short hair or prefers to wear her hair down rather than in braids or a ponytail. Use pink and green temporary spray-on color to create the watermelon effect, then add on 'seeds' – either large black buttons or fabric cut-outs – to finish the look.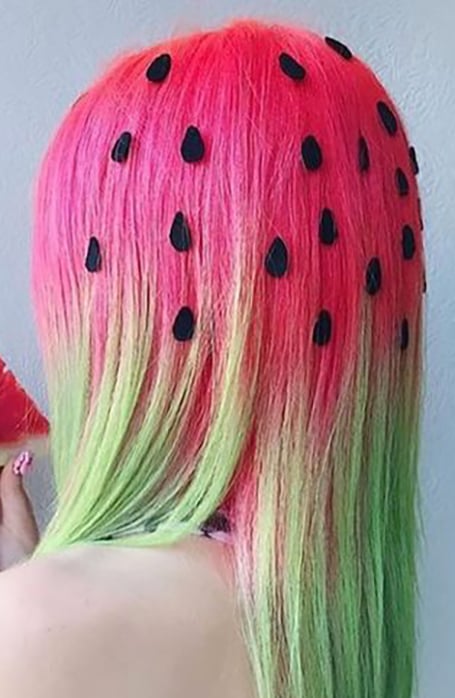 15. Balloons
Balloons add an exciting element to your daughter's crazy hair day style. To get the look, braid her hair into two plaits and attach balloons to each one with string or ribbons. For the lifting effect to work, you must fill the balloons with helium rather than air. If you don't have helium balloons, you can mimic the same effect by using crafting wire as a framework for the plaits. Bend the wire to give the braids a natural-looking lift and curve, and stop them from falling flat.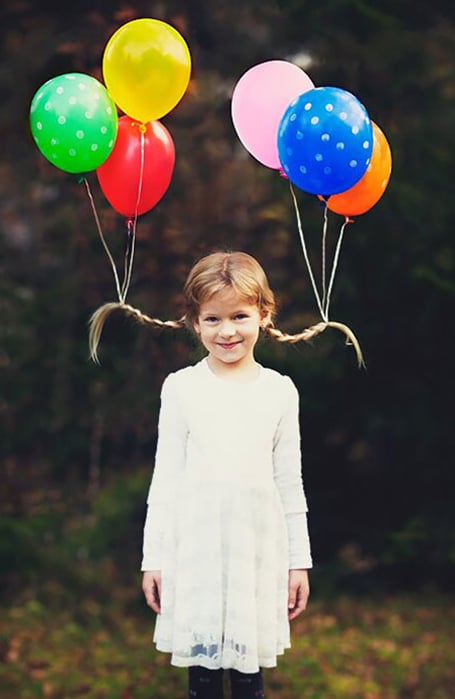 16. Snowman
If your daughter's favorite time of year is Christmas, why not work some winter spirit into her crazy hair day style? A snowman is a cute and fun option. Use two bun makers – also known as hair donuts – to create the different sections of the snowman's body. If your daughter's hair is naturally dark, use temporary spray-on hair color or hair chalk in white or silver to give the snowman an icy look. She can then choose his accessories.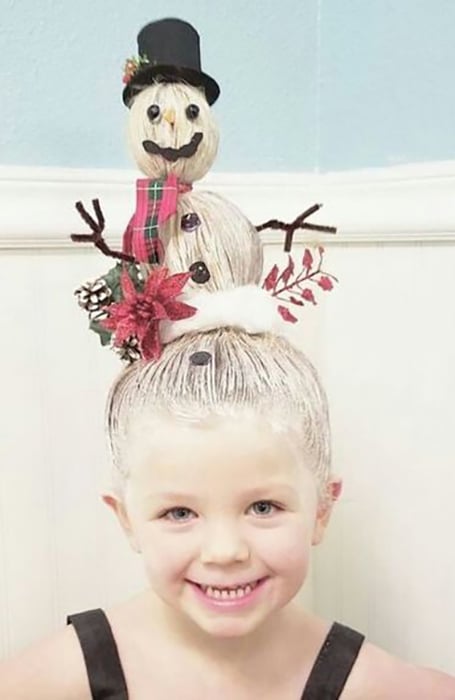 17. Animals
One of the most straightforward animal designs for crazy hair day is an octopus. Girls with long, thick hair suit this look, as their locks will have enough body to create the octopus' eight braided legs. Make the octopus' head with a bun maker and add googly eyes.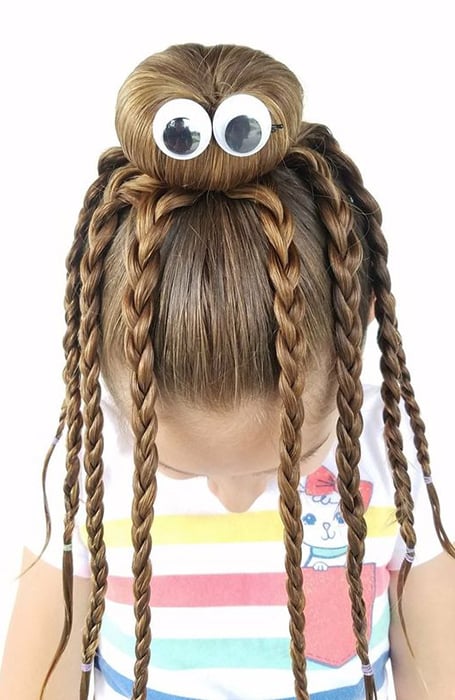 18. Glitter
When in doubt on crazy hair day, add glitter. Sparkly dust puts a fun twist on any hairstyle, like bunches, a high ponytail, or braids. Recently, a glitter hair parting has been trending. However, the only limit is your creativity – and how much your daughter loves to sparkle! Be sure to use a biodegradable glitter and bear in mind that it can be tricky to wash glitter out of hair – try soaking your daughter's locks in natural oil, like olive or coconut, for 10 to 15 minutes before shampooing.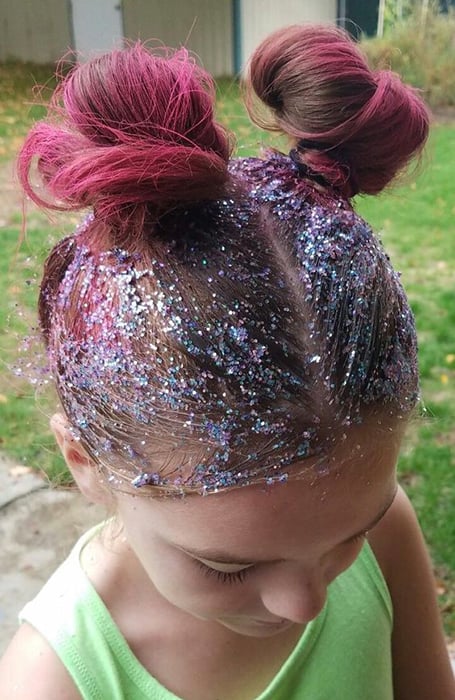 19. Rainbow
Rainbow hair brings a fun, positive vibe to crazy hair day. While the style looks simple, it can be tricky to get the rainbow arch to stay in place. Make sure you create a sturdy frame for your daughter's hair to wrap around, such as crafting wire or even a faucet connector from the hardware store. You'll need hairspray to make sure there are no flyaways, too. Once you've formed the arch, use hair chalk or even colored yarn to create the rainbow hues. Finally, disguise the base of the rainbow with clouds made from cotton wool balls.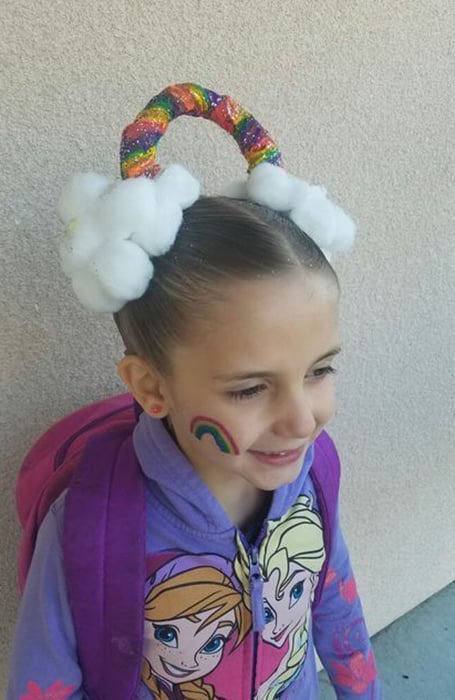 20. Dr. Seuss Crazy Hair
For a crazy hair day style that will stand out, take your cues from Cindy Lou Who, one of the cute characters in the Dr Seuss classic How The Grinch Stole Christmas. To imitate Cindy's crazy braids, use crafting wire and pipe cleaners to shape your daughter's hair. Be sure to add lots of colorful accessories too, such as a big red bow – like Cindy's – or different ribbons and hair ties.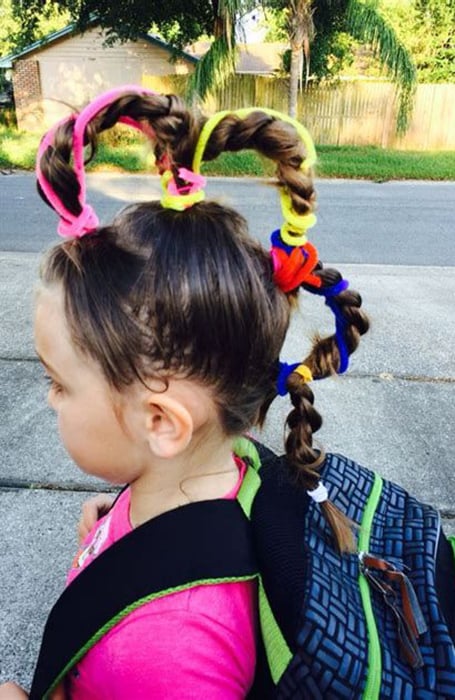 Crazy Hair Day Tutorials
For some simple crazy hair day tips and tricks for six popular girls' styles, check out the YouTube tutorial from the family-friendly channel Kids Cooking and Crafts. Presenter Ava and her mom show you how to quickly and easily create the looks, and your daughter will love watching the steps before you recreate them together.